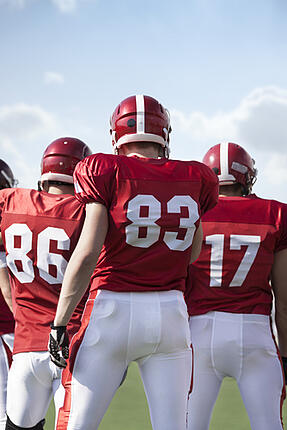 When purchasing team apparel and uniforms from your local team dealer, it is important that you understand the differences between the several decoration methods that are available to you today. Getting a better understanding of the variety of decoration methods will not only allow you to receive the best product for your specific need; you may also be able to save some money while having your players looking their best, on and off the field.
Team Uniform Decoration Methods
The majority of uniforms and athletic apparel are decorated with a team's names and numbers and specific team mascot using one of the following methods:
Silk screen printing
Tackle twill
Embroidery
Heat applied graphics
Direct to garment printing
Silk Screen Printing
Silk screen printing, more commonly referred to as "screen printing," uses a fine mesh or screen to transfer wet inks onto a garment, which is then put into a dryer to set and cure the inks. Screen printing has been around forever and is usually the most common method found at local team dealers. Basic screen printing equipment can be purchased for less than $500, so the cost to set up this method is relatively affordable. This is an excellent method for basic t-shirts and shorts or any garment or uniform that doesn't require a superior or professional look. Typical applications would be shirts for a fundraising activity, a 5k run/walk, or a young players' team that has a very limited budget. Watch out for screen printers that don't have experience with printing on a variety of fibers and fabrics. Some only know how to print on basic cotton t-shirts. If you are investing in a proper uniform ask if the team dealer is comfortable guaranteeing that the screen printing they are providing will stand up to hot laundry cycle and a tumble dry.
Tackle Twill
Tackle twill is the granddaddy of all decoration methods. Used by Major League Baseball, the NHL and the NFL, it is the highest-end, most-expensive method for decorating a team uniform. Nothing looks better than a crisply-cut tackle twill name and number on the back of a team as it takes the field. Understanding that having tackle twill placed on a uniform can be expensive, make sure you know all of the costs associated with this decoration method. Get a firm fixed quotation so there are no budget-busting surprises after the order is placed.
Embroidery
Embroidery technology continues to leapfrog itself with faster, more accurate machines becoming available every year. While it can be very expensive to purchase this equipment, the actual embroidery application itself should be reasonably affordable for most applications. When working with your team's mascot or logo, try to remove any small text that will be difficult to embroider effectively and also look at keeping the entire area to be embroidered to less than 3"x3". This should keep the cost per location at about $5-$7, depending on the number of units you are having decorated. Also, it is not uncommon for a team dealer to provide a sew-out of your logo BEFORE the entire order is run. This will allow you the opportunity to approve the thread colors and density of stitching so you don't end up disappointed when the final order is delivered.
Heat Applied Graphics
Heat applied graphics refers to any letters, numbers or logos that are pre-produced individually and then applied directly to a uniform or piece of team apparel using a heat press. This is an area of decoration that has made the most significant advances in terms of look and feel over the past few years. Look for a team dealer that has made the investment in a heat applied graphics printing machine and has one on site. This is a unique piece of equipment that prints your team's artwork onto a high tech media that is then laser cut and applied onto your selected uniform or apparel. While this method is not as inexpensive as silk screen printing, it will allow you to enjoy lower minimum order quantities and use an unlimited number of colors in your design. Different medias are available for printing, so if you choose a stretch moisture management garment, a super lightweight material can be printed and transferred on that will not interfere with the look and feel of these new ultra performance fabrics.
Direct to Garment Printing
Direct to garment printing is commonly found in smaller shops that don't have the room, skills or budget to invest in some of the previously mentioned methods. Also commonly referred to as DTG printing, direct to garment printing is probably the least appropriate method of decoration for true on-the-field uniforms or team apparel. This method is essentially an ink jet printer for garments. The look is more of an artistic approach and works well with certain end uses like concert shirts and such that don't require a high end professional on the field look.
Beyond the Decoration
Now that you have a bit more knowledge about available decoration methods, make sure you ask your team dealer about their return policies and approval policies. Be proactive in making sure you get what you want and your uniforms and their artwork are interpreted and delivered looking exactly like you would want them to look. Also, have your team dealer show you some examples of their decoration work that they have produced for other clients. Uniforms should last several seasons at a minimum, so be certain to find a team dealer that will guarantee that the decoration they put on your uniform will last as long as the garment does. To learn more about choosing a dealer for team sports gear, apparel, and uniforms, click the image below to download a free white paper, "How to Choose a Team Dealer."