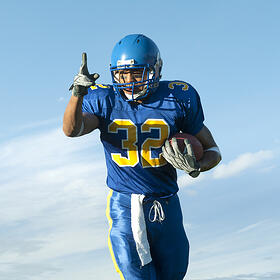 In the unpredictable world of competitive and recreational sports, teams, coaches, organizers and managers are faced with constant challenges. The very nature of competitive athletics is unpredictable; you never know what your team or players will be facing next.
The importance of quality for team apparel
In this world of constant uncertainty, you need to be able to rely on the quality and workmanship of the uniforms, gear and apparel that your team dealer sells you. Most name brand athletic gear manufacturers provide reasonable assurances that the equipment they make or the uniforms they sell will live up to your on-field requirements, but there are additional services provided by your local team dealer that can create a problem down the road.
Ask the right questions
Take the decoration of your team's uniforms and apparel. Whether it's providing a screen printed on-the-field uniform or your team's travel suits or duffel bags with your logo embroidered on them, your team dealer should be prepared to clearly define for you its return policy as well as its warranty for the embroidery and screen printing services that are added to the sale. Look for a team dealer that that is prepared to provide you the service after the sale.
Other questions you should ask a team dealer:
Do you perform your decoration in-house or do you sub-contract your work?
What do you do to ensure the printing or embroidery will last?
Should I expect any additional charges for artwork or setup associated with the decoration of my uniforms and apparel?
For replacement guarantees, what does "normal use" mean?
For starters, the team dealer you chose should be willing to repair or replace any uniform or team apparel that fails during normal use. In addition, the decoration that your team dealer provides – like your players' names and numbers – should certainly stand up to normal laundering throughout the course of the season. It's not unreasonable to expect these basic guarantees and they will allow you the peace of mind to focus on driving success on the field as well as in the equipment room.
What else do you need to know to choose a team dealer?
Quality of product and decoration are just one subset of a much broader set of topics you, as the decision maker, should look for when selecting a qualified team dealer for sports gear, apparel, and uniforms. Bulk-buying incentives as well as the ability for your local dealer to support your fundraising efforts with online fan shops can also help your organization stay ahead of its budget restrictions and the demand from players and parents for a quality program. To learn more, take a look at our informative free white paper, "How to Choose a Team Dealer" at the link below.