At SquadLocker, we believe that everyday should be Earth Day and we're making changes every day to do our part. As a business and custom apparel provider, we understand the impact our business can have on the environment. To do right by our customers and our planet we are committed to finding ways to reduce our carbon footprint and promote sustainable practices in all aspects of our operations. Learn about the 5 ways we're going green and using eco-friendly practices to protect our planet in honor of Earth Day 2023.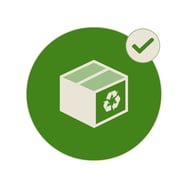 1. Eco-Friendly Packaging: We've changed our packaging. Our new packaging is made from recycled materials and 100% of functional resin is recycled content and made with 50% post-consumer waste that has been diverted from landfills. Customers will first see our new packaging replace traditional plastic bags and offerings will expand over the coming months.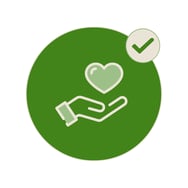 2. Donating Unused Product: We don't waste what you don't buy. Each month SquadLocker donates unused products to local charities and organizations. These donations ensure unused inventory is not wasted while supporting our community here in Rhode Island. On average SquadLocker donates over 4,000 items a year.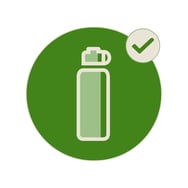 3. Environmentally-Friendly Products: Every little bit counts, and that's why we are committed to offering environmentally-friendly products for every team store. In our product catalog you can find both recycled fabrics and items made from sustainable materials. We also work with top brands that share our commitment to sustainability.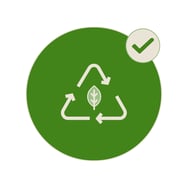 4. Reduce, Recycle, & Reuse: We don't want it in a landfill so we follow the three R's.
This year we reduced our paper footprint by removing paper inserts from our packages. Customers will now see things like garment care instructions and partner offers on our website and in our emails. We also switched up our printing process for decoration to nesting. The 'nesting' process we've adopted with our new printing equipment minimizes blank space on the page and reduces paper waste by 35-40%.
Our warehouse team is also committed to reusing items to reduce plastic consumption. For example, existing poly bags are reused until they break down or wear out. And finally, recycling is a major part of our best practices. We recycle all paper and cardboard waste generated during our production process. More than 39,000 cardboard boxes alone are recycled at SquadLocker annually.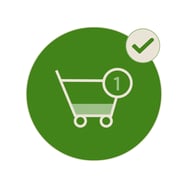 5. The Power of the One: We make and ship custom items on demand and deliver them direct to home. Unlike most custom apparel operations that make custom decorated items in bulk with lots of potential waste, we make and decorate them individually. This improves our sustainability. By decorating items on demand we reduce the waste of raw materials, time, and energy resulting from excess and obsolete inventory. We also manage the fulfillment process on each item. Which means that resources and burdens normally imposed on coaches, team organizers, and our store administrators have been removed. Carrying costly and sometimes wasted inventory while wasting time distributing items comes at a cost. Our business model is a win-win for both our customers and the environment.
SquadLocker is committed to being a responsible and sustainable business. We believe that we can make a difference, and we are always looking for ways to improve our environmental impact. This Earth Day, we encourage everyone to think about the small changes they can make to protect our planet. We only have one home so team up with us to create a healthier and more sustainable future.